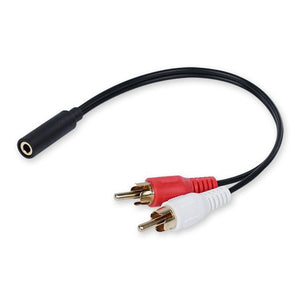 Splits a single 3.5mm Female Jack into 2 RCA: 3.5mm Stereo Female Mini Plug to 2 RCA Y-Cable: Most mobile devices use the 3.5mm stereo headphone output, most home audio systems with an amplifier or receiver use RCA jacks for audio inputs. This XOLORspace 3.5mm Stereo Female to 2 RCA Male adapter cable is ideal for adapting the output of your PC, or personal audio to stereo RCA jacks for a quick transition from headphone to RCA connection.
Wide Compatibility: Compatible with most RCA-enabled analog stereo audio and video components, such as your smartphones, MP3, Tablets, Home Theater, HDTV, Gaming Consoles, Hi-Fi Systems and more.
High Purity Oxygen Free Copper and Double Shielding: Stereo 3.5mm Female to 2 RCA Male Cable is made of Oxygen-free copper, ensuring high fidelity sound quality and providing maximum's conductivity and durability.
Connector A: 1 – 3.5(TRS) mm Mini-Jack (3 Position) Female
Connector B: 1 – Stereo Audio (2 x RCA) Female, White (Audio left) Red (Audio right)
Shipping cost: cables are not subjected to free shipping over US$40. Please contact customer service to collect shipping cost. When order quantity less than 100pcs, your cable order must be placed together with a device in shop.