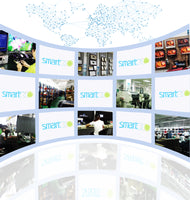 Smart Buy HD from Factory
SMART LINK ELECTRONICS LIMITED a China Shenzhen-based HDMI factory supplies up-to-date HDMI 2.0b HDMI Switch / Splitter / Converter / Extender and reliable accessories with different brands for different series. Smart Choice, Smart Price!
XOLORspace
XOLORspace is aiming at bringing high-technology HD Products from Chinese factory to the users all over the world with high-quality, nice prices, smart solution and first-class customer service.
Custom content
XOLORspace
XOLORspace is an international brand registered in EU, US, JP, AU. It mainly carries products range from HDMI switch, splitter, converter, extender and wireless HDMI. 
Testimonials
I used this for a few months because my old AV receiver didn't have enough HDMI ports. I have since upgraded to a new AV receiver with more HDMI ports. I still use this HDMI switcher because it is great for those smart devices that have their own built in HDMI cable like the Chromecast. The Chromecast is designed to dangle, but it doesn't work so great plugged into the back of an AV receiver especially when the receiver is on a shelf. It gets hot in the back and there isn't a great place for it to dangle. Can't rest it on the top of the hot AV receiver either. I have this HDMI switcher on a different shelf plugged into my AV receiver and I have the Chromecast plugged into the HDMI switcher and I folded a piece of tape so that the Chromecast sits on top of the HDMI switcher. The HDMI switcher doesn't get hot, so this is a great place to have it. Much better placement for the Chromecast and now if I need more HDMI ports than my AV receiver has, I can always plug more into the HDMI switcher.

Mystery
Bought this knowing that I had never heard of XOLORSPACE and was ready to get a subpar product. I've had this for 9 months so far and working with regular non 4K sources was working fine (Switch, Xbox 360, PS3). It automatically switches to another source when it detects video output. It also passes through CEC just fine. Then I plugged my new HTPC into it with 4K60 4:2:2 output and it passes it through just fine! Highly recommend this product.

Please also note that it cannot pass through 4K60 10 bit with 4:4:4 as HDMI2.0b only supports 18Gbps and that signal has too much data to push through for the spec. 4:2:2 at 60 fps can work or 4:4:4 at 30 fps as well. It *could* work with HDMI 2.1 spec but that's a new spec and I'm not aware of how this device would deal with it.

(Also pretty much most HDR movies or video sources chroma is output at 4:2:0 and Xbox One S/X outputs max 4:2:2 as well. You won't be missing out for now.)

Andrew R
YES! After trying multiple switchers purchased online and in stores, I thought I would never find an HDMI switchbox that would handle and XBOX One X and a PS4 Pro. A lot said they would, but were never reliable at all...picture cutting out, having to unplug and plug cables back in, etc....but this one delivers! I only have one 4K input on my TV and the two 4K gaming systems thinking it would be easy to find a switchbox...how wrong I was until I ran across a review of this one in an article. Works perfectly! The only thing I don't like is that it's just one more thing to plug into the power strip, but considering it does exactly what I needed it to, I got over it pretty quick. (To XOLORspace 23031)

Skullkrusher07
The only product that works for my demand. I hook up 4 devices (PS4 Pro, Xbox One S, Apple TV 4K and Xfinity Box) to this matrix switcher and output to the HDCP2.2 port on my Samsung 4K HDR TV, and the other port (audio only) stream to my SONY AV receiver (supports audio format Dolby +), and Optical audio output to my LG sound bar (supports audio format Dolby DTS 5.1channel). I got 4K 60HZ HDR on my TV, and when I played a video that supports Dolby +, I got it on my AV receiver. And that is the only switch that I've ever found to support Dolby Vision.(To XOLORspace 23421)

Demi
Fit my needs perfect. I really like this Switch. My Yamaha receiver doesn't do 4k passthrough but I really like it, so I didn't want to replace it yet. I found this Switch and it had a second HDMI out just for audio so I can still have uncompressed audio. The build quality is also quite excellent. Perfect for my needs. (To XOLORspace 23421)

KeeB
I bought this switch because I have a 4K HDR TV that only does 4K HDR on one HDMI port. I have a PS4 Pro and an Xbox One S and I needed to hook both of them up. This switch works perfectly. It switches between the two consoles quickly and smoothly. There are other Identical switches with other brand names on Amazon. I did not have good luck with them. I had 3 switches from them and they all had problems. This one however is perfect. If you need to switch between your 4K consoles this is the switch to get. (To XOLORspace 23051)

MarkU
FINALLY! I am able to have my PS4 Pro and XbOne X to the 1 4K HDR port that my Vizio has. This item is a bit pricier than the other ones I tried but it does display in 2160p RGB format with no issues or random drops. IT even auto selects the device that is turned on. (To XOLORspace 23051)

MeleeMaster6
Just got this today, so far it's working flawless. Ps4, xboxone,ps3 even wii ( had to get a converter seperate). I ordered a 23031A with ARC support but my tv didn't like that. I couldn't get audio from my soundbar no matter of it was connected to my tv or 26041 so I returned and got this instead. The remote on 23051 is very accurate, Auto changes my consoles fast. (To XOLORspace 23051)

Gricelda R.
I was having problems with my new PS4 Pro, original HDMI switcher and my Vizio 4K television. When I had my original PS4 I had no issues but the PS4 Pro would not detect the hdmi signal when I turned everything on with my Logitech remote. I had to unplug and replug the PSVR box for the switcher to detect the signal properly.

This new HDMI switch had no problems at all detecting the signal when switching ports. The model was found in my Logitech Harmony setup also. (To XOLORspace 23031)

C. Jackson