4K HDMI 8x1 Multi-viewer is with eight HDMI inputs and one HDMI output. Seamless switch eight HDMI sources into one HDMI-ready display in 9 different multi-views at resolution up to 4k 30HZ.  HDMI outputs audio and video simultaneously at audio format LCPM 2.0. It supports RS232 control and IR remote control. With Shortcut keys for up-and-down dual image mode, Right-and-left dual-image mode, Eight-image mode, Four-image mode. HDMI input resolution is up to 1080p, HDMI output resolution is up to 4k 30hz.
FEATURES: 
Compatible HDMI 1.4, HDCP 1.4, and DVI 1.0 version

Support 8 HDMI inputs, one HDMI output

Support 9 modes of multi-view on one display: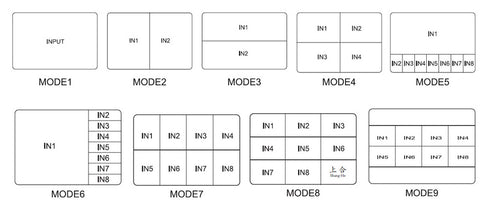 MODE1: Single image display mode (Channel 1-8 seamless switch)
              MODE2&MODE3: Dual image display mode
              MODE4: Quad display mode
              MODE5 & MODE6: 1 big -7 small display mode
              MODE7 & MODE8 & MODE9: 8 Image display mode
Support seamless switching

Support RS232 control

Input resolution supports 1080P, 720P, 1080i, 1024x768, 1360x768 etc.

Output resolution supports 1080P@60HZ, 2560x1600@60HZ, 2560x1440@60HZ, 3840x2160@30HZ.

Support audio and video superposition

Clearer subtitles function

HDMI input and output transmission distance

by

high speed HDMI cable can reach 10 meters
 Note: The Ethernet port does not have any function.
Package Contents:
4k HDMI 8x1 multi-viewer

12V/ 2A power adapter

Remote control

User manual